Skip to Content
Top five reasons to
choose The Collector
Just as there are countless reasons visitors fall in love with St. Augustine, there are dozens of reasons to make The Collector Luxury Inn & Gardens your home base for experiencing this magical and historic city. Our lovingly restored inn resonates most with those travelers who
choose experiences over objects and believe the ultimate luxury is an unscheduled afternoon to explore, study and be absorbed by new surroundings. Whatever your passion - history, horticulture, art - allow us to introduce an immersive experience.
Discover all the reasons to make The Collector your St. Augustine home base.
1 | You love art, architecture and history
The Collector Luxury Inn & Gardens is St. Augustine's most immersive historical hotel. Talks with art and history docents, watercolor painting with local artists, and walking tours are all part of the experience.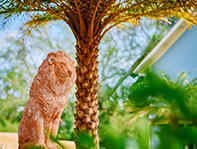 2 | You walk everywhere
Set on a full block in historic St. Augustine, The Collector Luxury Inn & Gardens is within a short stroll of some of the city's most popular attractions, including the Castillo de San Marcos, the Lightner Museum and Flagler College.
3 | You're a romantic
Original fireplaces, verandas, coquina walls, rough-hewn linens and luxurious silks. At every turn, quiet nooks and age-old textures whisper a romantic tale of Southern hospitality and the enduring legacy of colonial rule.
4 | You believe every day should end around a fire pit
After a day of sightseeing and exploring the oldest city in America, could there be a better way to unwind? Gather around one of the inn's cozy fire pits and savor a glass of wine from the nearby San Sebastian Winery or a perfectly made cocktail at The Well Bar.
5 | You collect experiences (not things)
If your most cherished memories are the experiences you've shared with friends, The Collector Luxury Inn & Gardens is, quite simply, your kind of place. We value moments above all else... breakfasts on the veranda, afternoon garden parties, and private tours with local historians to name a few.